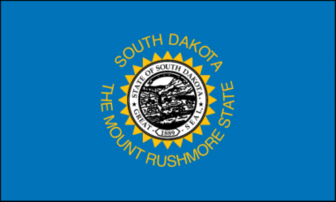 This image of the South Dakota flag is in the Public Domain and can be used freely. If you use it on a webpage, a link to
http://ourworldflags.com/South Dakota
would be very much appreciated.
The original Flag of South Dakota consisted of a dominant sun encircled by the text "South Dakota" and "The Sunshine State".
Until 1963, the state flag of South Dakota had a different design on each side. One featured the state seal, the other a golden sun. The 1963 legislation combined the two designs into one, which now appears on both sides of the flag.
The flag of South Dakota consists of the state seal surrounded by rays on a blue field. Around those are the words: "South Dakota - The Mount Rushmore State." In 1992, this was changed from "Sunshine State," which is more often used to describe the state of Florida.
The flag of South Dakota consists of a light blue base with the state seal on top of the yellow rays of the sun. 'South Dakota the Mount Rushmore State' is written in yellow and the words encircle the sun.
This flag of South Dakota is intended for representational purposes and no claim to technical accuracy is made. Click on the link above to read the terms for use of this South Dakota flag on your web page.
The state flag of South Dakota features the state seal on a blazing sun in the center against a field of sky blue. The words South Dakota are above the seal and the state nickname appears below (The Mount Rushmore State).