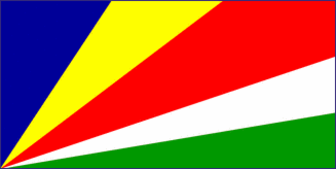 This image of the Seychelles flag is in the Public Domain and can be used freely. If you use it on a webpage, a link to
http://ourworldflags.com/Seychelles
would be very much appreciated.
If you would like to use this flag of Seychelles or any other on your website you are welcome to do so, all we ask is that you include a link back to our site on the same page. Please click here for information.
* Flag of Seychelles Value T-shirtFlag of Seychelles Value T-shirt £9.
National Flag of Seychelles: EPS vector format in both official proportions and a standard sized 3:5 ratio version. $4.95 - Seychelles - Macintosh - Download (.
The current flag of Seychelles is the third flag adopted by the nation since its independence from Great Britain on the 29th of June 1976. In 1977, Seychelles' first independent government was overthrown in a political coup led by an opposition political party.
The flag of Seychelles consists of five oblique bands of blue (hoist side), yellow, red, white, and green (bottom) radiating from the bottom of the hoist side.