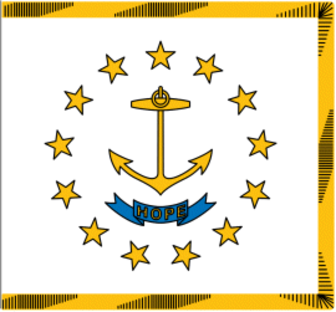 This image of the Rhode Island flag is in the Public Domain and can be used freely. If you use it on a webpage, a link to
http://ourworldflags.com/Rhode Island
would be very much appreciated.
The flag of Rhode Island consists of a white base with a yellow anchor circled by 13 yellow, five-pointed stars in the center. The anchor and stars are outlined in blue. Below the anchor the word 'hope' is written in yellow on a blue ribbon.
The flag of Rhode Island is white and consists of a gold anchor in the center (a symbol for hope) surrounded by thirteen gold stars (for the original 13 colonies and Rhode Island's status as the 13th state to ratify the Constitution).
The golden anchor displayed on the white flag of Rhode Island is the traditional symbol of hope; the thirteen gold stars represent the original States of the Union. 2 ft. x 3 ft. $47.