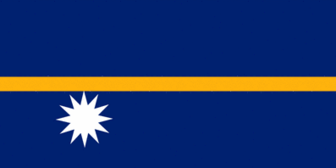 This image of the Nauru flag is in the Public Domain and can be used freely. If you use it on a webpage, a link to
http://ourworldflags.com/Nauru
would be very much appreciated.
The flag of Nauru is composed of blue with a narrow, horizontal, yellow stripe across the center and a large white 12-pointed star below the stripe on the hoist side; the star indicates the country's location in relation to the Equator (the yellow stripe) and the
This flag of Nauru is intended for representational purposes and no claim to technical accuracy is made. Click on the link above to read the terms for use of this flag of Nauru on your web page.
National Flag of Nauru: EPS vector format in both official proportions and a standard sized 3:5 ratio version. $4.95 - Nauru - Macintosh - Download (.
* Flag of Nauru Value T-shirtFlag of Nauru Value T-shirt £9.