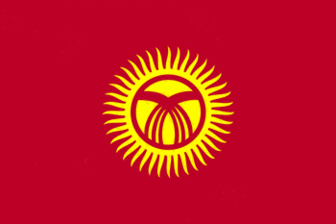 This image of the Kyrgyzstan flag is in the Public Domain and can be used freely. If you use it on a webpage, a link to
http://ourworldflags.com/Kyrgyzstan
would be very much appreciated.
The flag of Kyrgyzstan was adopted on 3 March 1992 by the Supreme Council of Kyrgyzstan. It consists of a red field with a yellow sun in the center having 40 uniformly spaced rays.
Flag of Kyrgyzstan image courtesy of 4 International Flags Kyrgyzstani flag courtesy of 4 International Flags 116 -
Top Home > Library > Travel > Regional StatsClick to enlarge flag of KyrgyzstanIntroduction Background: A Central Asian country of incredible natural beauty and proud nomadic traditions, most of Kyrgyzstan was formally annexed to Russia in 1876.
* Flag of Kyrgyzstan Value T-shirtFlag of Kyrgyzstan Value T-shirt £9.
This flag of Kyrgyzstan is intended for representational purposes and no claim to technical accuracy is made. Click on the link above to read the terms for use of this Kyrgyzstan flag on your web page.
The flag of Kyrgyzstan consists of red field with a yellow sun in the center having 40 rays representing the 40 Kyrgyz tribes; on the obverse side the rays run counterclockwise, on the reverse, clockwise; in the center of the sun is a red ring crossed by